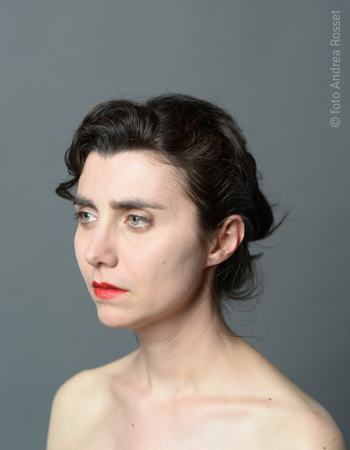 Poetica
La mia ricerca pittorica ripete e rinnova i suoi esercizi intorno al volto e al corpo. Il lavoro procede senza un preciso progetto, seguendo anche gli accostamenti e le verità del caso, prendendosi cura degli errori e portandoli a compimento. Tento di seguire un processo intuitivo che vede l'immagine come unica protagonista e custode di un certo mistero, lo "sconosciuto" a cui fortemente tendo. L'incertezza è il terreno su cui mi muovo ed è forse proprio lei che mi permette di accedere, alla fine del lavoro, a una sorta di riscoperta personale. Perché non si ha niente da dire. Perché avere qualcosa da dire non significa "dire qualche cosa", ma piuttosto "essere qualche cosa". Così l'opera terminata diventa un carattere.
Greta Bisandola, nata nel '76, vive e lavora a Padova (Italy).
Poetics
My pictorial research repeats and renews its gestures on faces and bodies. My work proceeds by indulging random combinations, without a precise plan, taking care of mistakes and bringing them to completion. I try to follow a instinctive process which sees the image as the only protagonist and guardian of some kind of mystery, the "unknown" towards which I strongly reach out. Uncertainty is the field where I move, and perhaps it is uncertainty itself which allows me to get — once the work is finished —to some sort of personal rediscovery. This happens because there is really nothing to say. Because to have something to say does not mean "to say something", but rather "to be something". Thus, the finished work becomes a character.
Greta Bisandola, born in '76, lives and works in Padua (Italy).